Wire Transfer Guard™
The First Cyber-Deception Solution Built To Protect Wire Transfer Networks
Defend Your Financial Data And Messages From Advanced Attackers
Financial Networks Are Under Attack
With the $81 million stolen in the Bangladesh Bank heist of 2016, advanced attackers identified a gold mine with vulnerabilities in wire transfer networks. Many wire transfer systems are not updated and use old configurations that make them easy targets for these attackers. Even the most sophisticated prevention tools fall short and expose banks and financial institutions to great risk.
illusive's Wire Transfer Guard™ breaks that pattern by detecting attackers on their first failed attempt, and mitigating future attacks.
illusive Wire Transfer Guard™
Wire Transfer Guard™, the first cyber-deception-dedicated solution built to protect wire transfer networks, effectively detects, reports on and mitigates targeted attacks that pose high risk of financial and strategic damage to financial institutions globally.
How Wire Transfer Guard™ Works
Wire Transfer Guard™ deceives attackers into finding deceptions wire transfer networks. When an attack is launched on the deceptions network, the attack is immediately detected, real-time forensics are obtained from the attacker's machine and the attack is completely mitigated.

Wire Transfer Guard™ does this by deploying deceptions on every endpoint in the network in an agentless fashion. These deceptions point to the deceptions wire transfer network servers, objects, user credentials, web interfaces and more. Because there are more deceptions than actual wire transfer networks, attackers are likely to attack deceptions.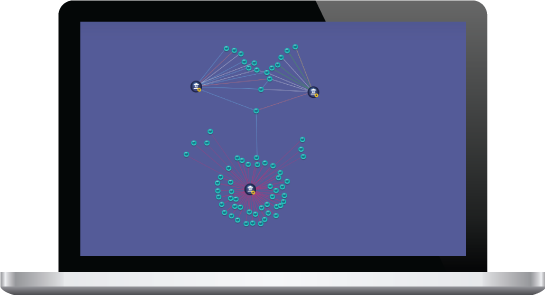 How Your Wire Transfer Network Looks To Advanced Attackers
How Your Wire Transfer Network Looks With Wire Transfer Guard
Protect Your Network From Wire Transfer Attacks
Securing High-Value Financial Data
I.
Close Security Gaps
Wire Transfer Guard™ provides vital detection and mitigation of wire transfer attacks, regardless of the user's version and configuration of the wire transfer software being used. This helps protect networks while the user upgrades to the current version of the network software.
II.
Visualize Your Complete Attack Risk
Wire Transfer Guard™ and illusive networks' Attacker View™ visualize various components of wire transfer systems, providing insight into existing attack vectors and vulnerabilities that pose risks to key assets within your organization's wire transfer network.
III.
Detect Attacks In Their Infancy
With illusive's Deceptions Everywhere® technology, you'll detect advanced attacks in their earliest stages, before they reach wire transfer systems. This enables an early response that will prevent an attacker from reaching the sensitive system.
IV.
Divert Attackers With A Vast Web Of Deceptions
Wire Transfer Guard™ deploys a web of decoy data that includes credentials, databases, gateways, access-servers, web-interfaces and other entities. These deceptions effectively divert and mitigate attacks, while increasing the probability that attackers will use a deception when they attempt to access the network, and thereby reveal themselves.
High Detection Rate
Multidimensional deceptions increase the probability that an attacker will use at least one type of wire transfer deception and be detected accurately.
Detailed Forensics
WireTransfer Guard™ provides detailed, real-time forensics on advanced attackers targeting wire transfers to reveal the nature of the advanced persistent threat (APT).
No False Positives
Deceptions are invisible to end users and regular IT personnel, which eliminates time-wasting false positives.
No Agents
With no agents or software installed at endpoints, there is no additional element for attackers to target, and no additional burden on IT teams.
Divert Attackers From High-Value Data
Start Now
© All rights reserved illusive networks 2015